International Youth Day 2021 - United Nations For Youth The European Student Voluntary Network
12 August 2021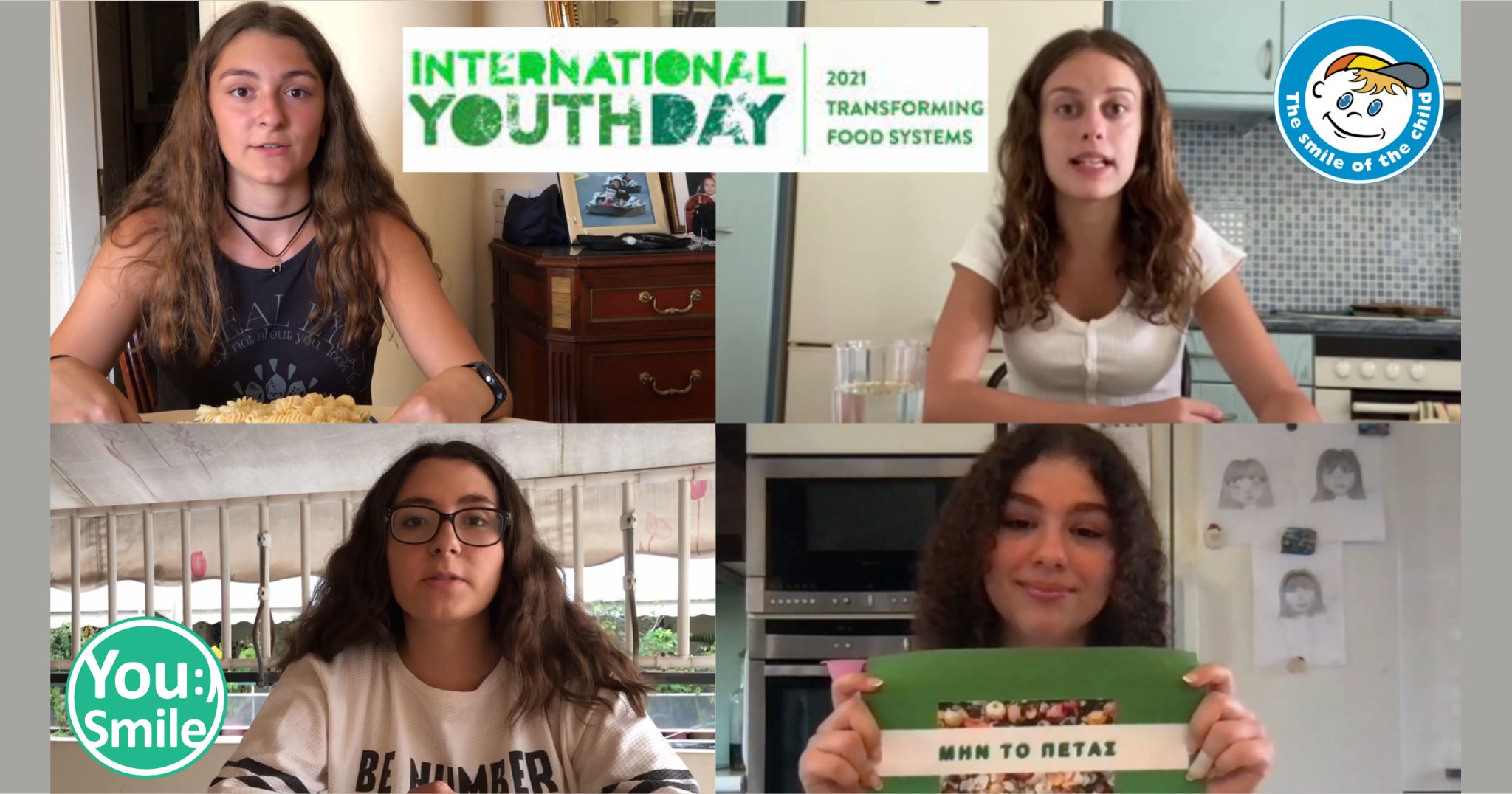 PRESS RELEASE
Athens, 12 August 2021
International Youth Day 2021 - United Nations For Youth The European Student Voluntary Network
"The Smile of the Child", an Organization with consultative status at the Economic and Social Council of the United Nations (ECOSOC), an associated member of UN Global Communications Unit and a member of the DGC Youth Representatives of the United Nations (UN DGC Youth Representatives Committee) honors this International Youth Day by participating to the global effort of the United Nations through the YouSmile Network. This year's theme is 'Transforming Food Systems: Youth Innovation for Human and Planetary Health'.

'Don't waste it' is the motto that YouSmile's student-volunteers came up with. YouSmilers ask the people to halt the overexploitation of available environmental resources and contemplate this aspect of climate change, whose impact on our lives nowadays is more striking than ever.

Children call us to action: to understand the problem of hunger and the ways it is connected with climate change, to manage water and other resources more effectively and to share our food, in order to eliminate the catastrophe of the environment before it's too late.

YouSmilers collaborated to produce a DIY video to share their worries and propose ways of reducing food waste on a daily basis.

At times like these…at times when the environment is being destroyed by wildfires, floods and other natural disasters, it is our duty to make everything in our power to protect the planet, the children, our future!
Watch the video here: https://youtu.be/4VZurcQ-Vq0

The European Student Voluntary Network "YouSmile" is the only Greek active volunteer Group for young people. In the 9 years of its successful operation, more than 30.000 young people from 880 schools have participated in volunteer activities bringing relief to children in need. The Network also organizes events to raise awareness on issues of concern, among others;
● Child Rights
● School Bullying
● Child abuse
● Missing adolescents and children
● Addiction to gaming and social media
● Safe internet use
In spite of the challenges posed by Covid, 10.615 students from 417 schools nationwide participated in the YouSmile program in the last year.

In the 25 years since its founding by its 10-year-old Founder, Andreas Yannopoulos, "The Smile of the Child" is active on both addressing issues that threaten children, as well as educating young people to put into practice the Rights of the Child.
Follow us on social media using the hashtags #YouSmile, #IYD2021, #YouthDay

You may learn more about the Network's action by following YouSmile on Instagram here
For more information:
The Smile of the Child
Phone number: 11040
press@hamogelo.gr