Volunteer Diplomats next to children / Diplomats for Children
01 June 2023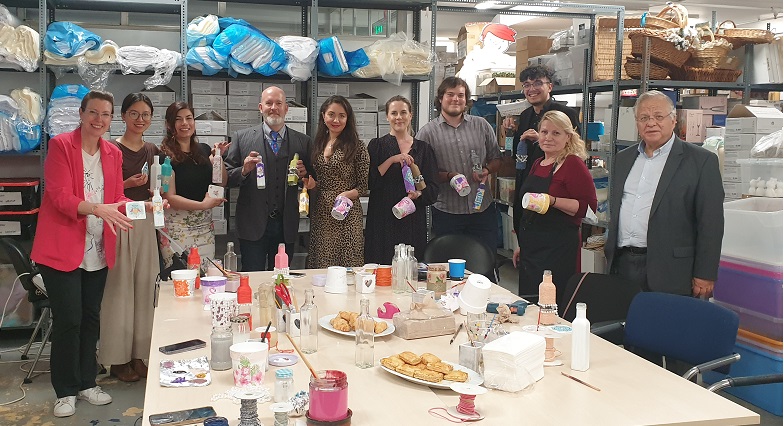 International Children's Day · June 1st
On the occasion of International Children's Day on June 1st, "The Smile of the Child", in cooperation with the Embassy of Moldova, held the action "Diplomats for Children", a meeting of diplomats for "The Smile".
On Tuesday, May 30, we were delighted to welcome at the Panhellenic Coordinating Operational Center for Direct Social & Medical Intervention "Andreas Yannopoulos", in Aghia Paraskevi, representatives from the Embassies of Albania, Canada, Moldova, Peru, Poland, Romania, Switzerland, Ukraine, USA and Vietnam, as well as a representative of the Ministry of Foreign Affairs and Moldovan artist Tamara Topala.
In addition, we were honored with the presence of HE Andrei Popov, Ambassador of Moldova, and HE Sergii Shutenko, Ambassador of Ukraine, who spoke very warmly about "The Smile" and its work, while thanking the Organization for its genuine interest in their countries and its prompt and rapid response to their requests for support and assistance.
A briefing was held on the work and actions of the Organization, with the President of the Board of Directors, Mr. Costas Yannopoulos welcoming the attendees and making an introduction to the history of the Organization and the important cooperation of trust that has been developed over time with foreign countries.
Then Ambassador (H) Marc Van den Reeck, volunteer and head of international cooperation at "The Smile", highlighted the importance of our relations with embassies and consulates, in terms of advocacy as well as direct and practical issues concerning the welfare of children, while a tour of the Hot/Helplines and the Social Polyclinic of the Organization, in Aghia Paraskevi, could not be missed.
Wishing this meeting to have a more special and participatory character in the initiatives of "The Smile", we also organized a special activity for our guests! Under the guidance of Moldovan artist Tamara Topala, we made handicrafts that will be distributed at bazaars, festivals, etc. of the Organization. The purpose of this activity was for foreign diplomats to dedicate time and effort to support a cause while doing something fun and useful.
This meeting was an inspiration for us and we hope the same for our guests, as it was just the beginning of all the nice actions and activities that will follow along the way from our own Diplomats for Children! We look forward to our next meeting...