17th October 2022: International Day for the Eradication of Poverty
17 October 2022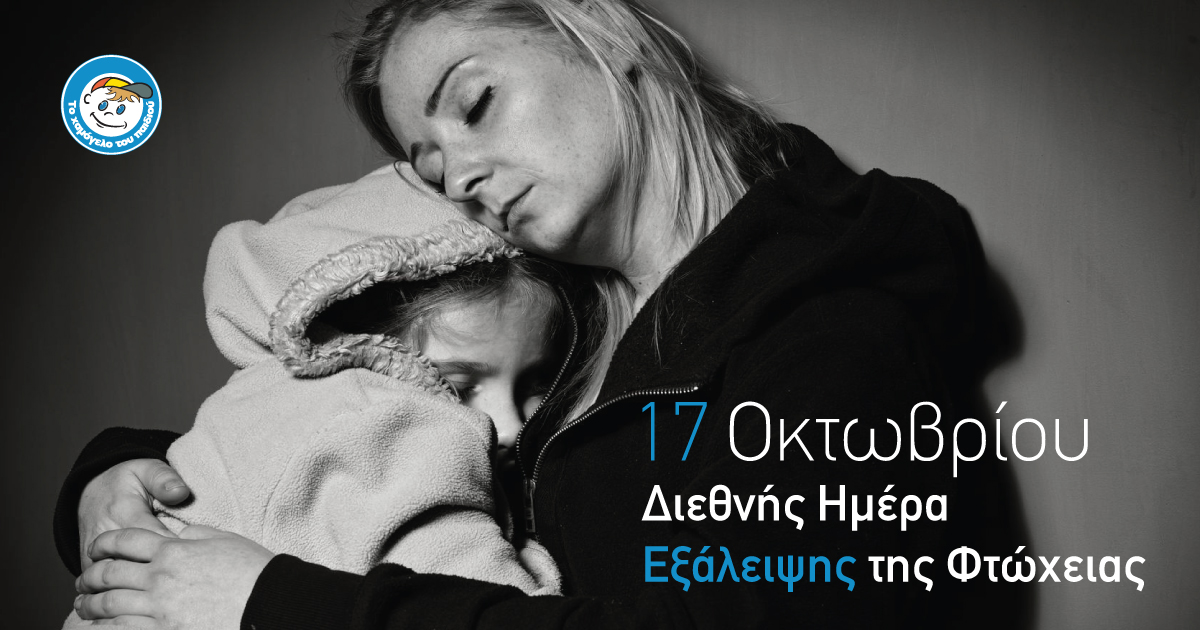 PRESS RELEASE
Athens, 17 October 2022
17th October 2022: International Day for the Eradication of Poverty
In the first half of 2022 alone, "The Smile of the Child" provided holistic, individual, and dignified support to 11.300 children and their families, who are or were at risk of poverty.
The National Observatory of Child Welfare of the Organization "The Smile of the Child", (C.W.-SMILE) presents specific proposals for the elimination of child poverty.
In December 1992, the United Nations declared October 17 as the International Day for the Eradication of Poverty. The pandemic crisis and the recession of the global economy have led to upward poverty trends throughout the world. In our country, the greatest victims of this poverty are children. In the first half of 2022 alone, the Organization has assisted a total of 11.300 children and their families, who are struggling with living problems throughout Greece.

The National Children's Welfare Observatory of the Organization "Smile of the Child", (C.W.-SMILE), defines child poverty as "any potential deprivation of pleasure caused to children, as a result of the complete deprivation or insufficient quantitative or qualitative provision of some economic or non-economic factors. The economic factors are income, material goods (food, safe heating, electricity, etc.), etc. Non-economic factors include health, education, free time, culture, etc." (Leriou, 2022, Section 2).

According to the Observatory's research, titled "Understanding and Measuring Child Well- Being in the Region of Attica, Greece: Round four" (https://link.springer.com/article/10.1007/s12187-022-09957-x), announced last August in the United States and at the international scientific conference ''ISQOLS 2022 Conference: Burlington, Vermont, U.S.A.'':

In the first semester of the 2021-2022 school year:
1 in 7 children is in a state of economic poverty,
1 in 5 children suffers from poor nutrition in terms of quantity and quality,
1 in 7 children does not have comfortable and adequate living conditions at home,
with 1 in 3 children declaring damp or cold weather conditions at home,
1 in 9 children, either not heated at all, or heated with substandard and/or dangerous heating methods,
1 in 10 children was either without electricity or was at risk of being without electricity,
1 in 7 children lives in a household where none of their guardians' work,
1 in 3 children lacks an education that cultivates not only competencies but also human virtues.
Based on this research, published in the journal Child Indicators Research by Springer publications, and conducted in Attica, the metropolitan region of our country, with representative results from across Greece, regarding the elimination of child poverty in Greece, emphasis should be given in specific groups of children, and in particular:
Regarding nutrition, the focus should be on middle and high school students, and single-parent households with a single mother
Concerning unemployment, emphasis should be placed on single-parent households with a single father
In terms of education, it should cultivate not only skills, but also human virtues, and emphasis should be given to high school students.
Whereas, in light of the economic policy decisions that have already been made, emphasis should be placed on Public Finances.

The published research of C.W.-SMILE is not limited to a mere description of the state of the quality of life of children in our country but it presents concrete proposals for the elimination of poverty. These proposals focus on and differentiate urban, insular, and rural areas.

Specifically:
The establishment of school lunches should be extended from elementary schools to middle and high schools throughout the country
To alleviate the inequalities caused by the pandemic crisis in child nutrition, direct taxation should be preferred to indirect taxation, from a public finance perspective. Therefore, it is proposed that basic baby food items be fully exempt from VAT
In order to make children more visible in the sphere of public dialogue, it is proposed to establish a separate Ministry exclusively dedicated to children's welfare (financial and non-financial). It will be strictly and exclusively staffed by academics who are simultaneously specialized in Welfare Economics, Public Finance, Child Welfare/Poverty and General (Social) Welfare
This newly proposed Ministry should be modeled on and consult organizations, such as "The Smile of the Child", which are internationally recognized for their contribution and specialized work in improving children's welfare (financial and non-financial).
Internationally, "The Smile of the Child" is a member of the Task Force Group of the European Network "Eurochild" to promote the implementation of the European Child Guarantee for children at risk of poverty or social exclusion. In the 26 years of its continuous and uninterrupted action, the Organization has provided individual and holistic assistance to 150.603 children in poverty or at risk of poverty.

With the aim of providing holistic support to children and their families with living problems, "The Smile of the Child" carries out several specialized actions, nationwide. In particular:
"Supply Chain of Life": The Organization has developed an integrated Supply Chain of Goods and Services, whose main recipients are children and their families, at risk of or living in poverty. The goods are offered by individuals and businesses and are transported by specialized vehicles of the Organization (refrigerator trucks, specialized refrigerators for the transport of medicines, etc.) to the Support Centers and the commodity banks of the Organization.
National Helpline for Children SOS 1056: "The Smile of the Child" operates the SOS 1056 Helpline and is available to assist any child in need. Staffed by social workers and psychologists, the helpline is available nationwide, 24 hours a day, 365 days a year, and provides guidance and counseling on all issues, as well as links to other services.
Day Care Homes: The "Day Care Homes" operation is carried out with the aim of caring for children whose families are facing serious problems. The children return to their family environment in the evening, after having been cared of by the Organization throughout the day.
Support Centers: The 15 Child and Family Support Centers nationwide provide everything a family in crisis needs to get back on its feet with dignity. In addition to securing goods, professional counseling is also provided so that the family can overcome difficulties and get back on its feet.
Medical & Social Support: The Organization, with specialized scientific staff, social workers & psychologists, supports the family holistically.
Here you can find out about the Organization's specific actions in the area of poverty.

Here you can see in the "Supply Chain of Life" from "The Smile of the Child" in detail.

Bibliography:
Leriou, E. (2022). Understanding and measuring child well- being in the region of Attica, Greece: Round four. Child Indicators Research. https://doi.org/10.1007/s12187-022-09957-x

More information:
"Smile of the Child"
Press Office
Tel.: 11040
press@hamogelo.gr