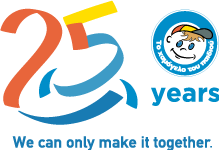 25 years have passed from the day when our young founder, our 10-year-old Andreas Yannopoulos, wrote in his diary for the last time. His wish was to create an Organization that would provide for all Children, so that they would equally enjoy the "Smile" they all deserve.
He named it "The Smile of the Child".
25 years later and in his loving memory this diary still serves as our compass; we navigate through adversities and support each and every child in need or in danger; With endless care and alert to safeguard their dignity, we respond to every call on a 24/7 basis throughout Greece.
For 25 years we have been joining forces with all of you, special people who participate in our mission to turn Children Rights to Children Realities, making children's faces smile bright; Hundreds of thousands of supporters, over 30.000 volunteers and more than 10.000 companies add their contribution to make this happen.
For 25 years we have been standing next to more than 1.700.000 Children, each of whom is a precious soul with a unique story.
In our 25th Anniversary, we have only one wish to share; To reach the point when our existence will no more be necessary, when our mission will be accomplished.
May the day come when no child will ever be in need or in danger again. May the day come when all that we have attained will seem a long forgotten  past, a nightmare from which we all woke up.
Only then will we have fulfilled the wish of young Andreas. Only then will all children's smiles shine forever bright, as they deserve.
Please have a look at the different ways you may participate here.

We can only make it together!