In 2022 "The Smile of the Child'' and its specialized team of 464 of scientific professional staff supported 72.501 children and their families: a 41% increase compared to 2021
18 January 2023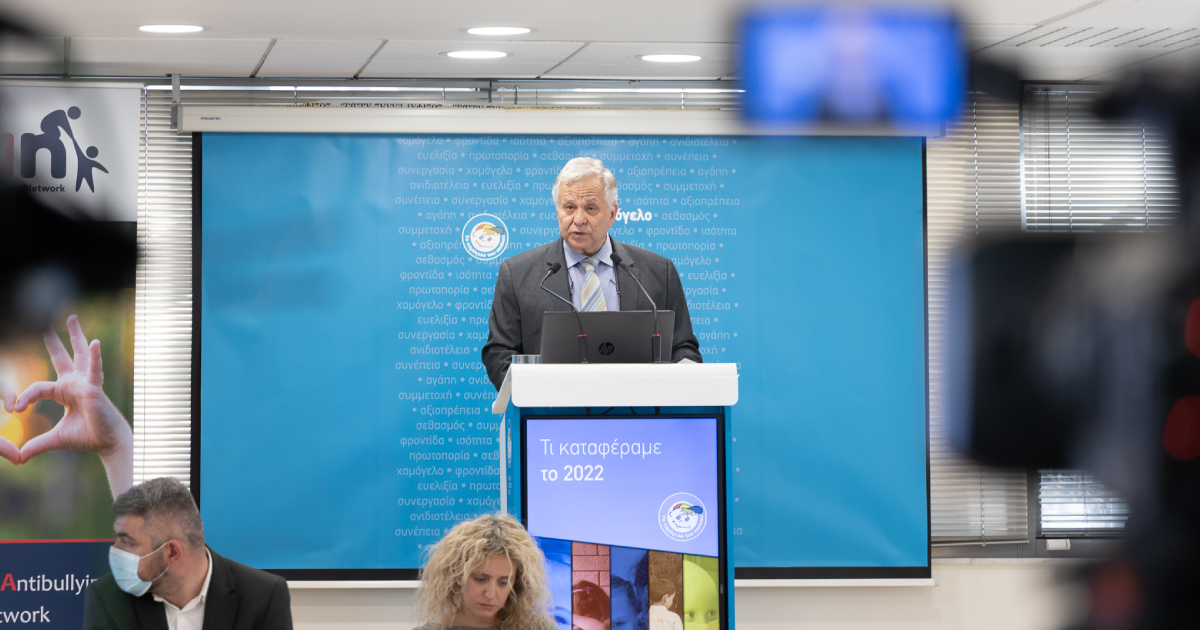 PRESS RELEASE
Athens, 18 January 2023
In 2022 "The Smile of the Child'' and its specialized team of 464 of scientific professional staff supported 72.501 children and their families: a 41% increase compared to 2021
197.548 calls to the 4 Hot/helplines of the Organisation / 1 call every 2 minutes / average waiting time of 12 seconds.
40.735 children were supported through actions of prevention, intervention and therapy in the field of Violence.
1.515 children and 167 adults were supported through actions of prevention and intervention in the field of Missing.
13.686 children were supported through actions of prevention, intervention and therapy in the field of Health.
16.565 children and their families that live in or on the verge of Poverty were supported.
Increase by 174% in the number of students, teachers and parents/guardians that participated in interventions of prevention for School Violence and Bullying
Increase by 74% in the number of missing children and adolescents
Increase by 106% in the number of incidents of missing adults with serious problems
Increase by 66% in the number of children that participated in the Preventive Medicine and Dentistry Program.
1 out of 2 children that have been accommodated in the 11 Homes of the Organization until today, have been rehabilitated through reunification with their family environment, foster care or adoption.
2022: 276 children victims of violence were placed in the Homes of the Organization, of which 67 were rehabilitated.
Day Care Homes are the most suitable choice for avoiding children's institutionalization, by taking care of them and their family that had to face a crisis.
In the context of the transparency and accountability that have been guiding "The Smile of the Child'' over the past 27 consecutive years, the Organization held a Press Conference on Wednesday, 18 February 2023, during which 12 members of its scientific personnel working on the ''front line", at the service of each child and family, presented the Activity Report of 2022.
During the Event, the speakers analysed the annual statistical data of the specialized and holistic services provided t to every vulnerable child and family, by focusing on the value of each action under the pillars of Violence, Missing, Health, Poverty, the value of education and training, as well as the priceless pillar of Volunteering.
The President of the BoD of the Organization, Costas Yannopoulos, stated: "Today, we are here before you, along with twelve valuable and specialized colleagues that are placed in the front line of "The Smile", to present what we accomplished in 2022. Just twelve out of the 464 of our professionals, who are at the service of children, with diligence and dedication, daily, over the past 27 years, from the one corner of Greece to the other. Children that are being tried, children that suffer, children that for some "The Smile of the Child" may be their only chance for life and prosperity. In 2022, we supported in a specialized and holistic manner 72.501 children and their families, always in collaboration with the state's institutions, documenting an increase of 41% in the number of children we supported in 2021. We managed 197.548 calls to our 4 Hot/helplines, 1 call per minute, with an average waiting time of only 12 seconds.
The following are at the service of children:
A specialized team of 464 professional scientific staff working across Greece, with an annual payroll cost of 10.113.541€
14 Homes of Care and Day Care Homes with an annual cost of utility bills of 131.360€ (Electricity, water)
137 specialised vehicles that include Mobile Medical Units, Mobile Polyclinics, Vehicles of Direct Intervention, Operational Units for the search of missing children, Medical Units of Pediatric Home Care, Buses, Preventive Medical and Dental Units for children, Trucks, Trucks with mobile refrigerators, with an annual operating cost of 211.758 €, and
7.540 valuable adult volunteers, who offered 57.841 hours of participation, and 331 children, adolescents and students from 30 schools who are active volunteers in the European Student Volunteer Network "YouSmile" in Athens, Thessaloniki, Crete and Larissa.
Behind each number is a child and its family, a family with a history of violence, a missing child case, a chronic disease, a daily struggle for survival. It is worth noting that 1 out of 2 kids that have been accommodated in the 11 Homes of "The Smile" to date, have been rehabilitated through the process of reunification with their family environment, through foster care or adoption. We are the Organization that has implemented the most reunifications of children with their biological family, while we promote, over time and consistently, the parallel support of the family with the ultimate goal of returning the child to its warmth, when of course it is permitted by law. At the same time, we continue to support our adult children, once again by making sure to stand by them, step by step, until they manage to become independent emotionally, but also practically, so that they will not need us anymore.
We continue, against everyday challenges, by complementing the state institutions with our actions. Because, if there is no coordination with the state's institutions, our effort remains a wish. And the daily life and our children's problems today do not need words, but meaningful and direct solutions", Mr. Yannopoulos concluded, and then handed the floor to the scientific speakers, Social Workers, Psychologists, Pedagogues, who analysed separately the sectors they manage and coordinate, emphasizing the need for the services and actions of the Organization to exist and operate in today's Greek reality, as children and young people's problems are constantly recorded as increasing.
Foteini Papadatou, Psychologist at the Center for Direct Social and Medical Intervention in Herakleion, Crete, mentioned: "At the National Helpline for Children SOS 1056 and Chat1056, the people of "The Smile", the psychologists, the social workers, we responded to thousands of calls throughout 2022 and we managed approximately 20 cases of children per day. Children that experienced physical, emotional, sexual violence, neglect, or whose mental or physical state were placed, in some way, in danger and we needed to inform the authorities. In the meantime, approximately three children per day were calling us at the European Helpline for Children and Adolescents, trusting our Organization and its work, aware of our Lines from the actions of prevention and awareness in schools, children who needed counselling for various serious difficulties they are facing, such as matters of mental health and unfortunately, not rarely, with suicidal thoughts. Our Lines are the means of salvation for thousands of children in Greece, 24 hours per day, 365 days per year!"
"Regarding prevention in schools and carrying out interactive interventions of prevention, it is worth noting that all educational programmes came about from the need for knowledge, prevention and managing incidents of bullying inside the school community, but mostly because of the incidents that have been in the news during 2022. The revelation of cases for bullying in schools across the country, urged the entire school community that is aware and trusts our action, to communicate with us, so that we could visit schools and inform them on all issues that concern them. Of course, our presence in schools was not restricted to prevention, as we were also called to manage horrible incidents that occurred," stated Ioanna Chardaloupa, Psychologist and Coordinator in the department of Prevention and awareness-raising of Children, Parents/Guardians and Teachers.
Ioanna Lagoumintzi, Social Worker and Coordinator of the Social Services of the Homes for Care and Day Care Homes, pointed out that the priority of the Organization, overtime, is -when possible- the reunification of children that are accommodated in the Homes with their biological family. "However, in the cases when this is not possible and it does not serve the child's best interest, then the rehabilitation in a family through the institution of adoption or foster care is the goal of the individualized plan of support for each child. This is verified by the fact that in the 27 years of our action, 1 in 2 children that have been accommodated in our Homes, were either reunited with their family environment, or rehabilitated in foster families. To be more specific, in 2022, a total of 276 children were accommodated in our 11 Homes, of which 67 departed, in the most part because of reunification / return to their family environment (38,8%), rehabilitation through adoption and foster care (28,3%), as well as transitioning into adulthood, independent living and professional rehabilitation (23,8%). Of course, our main priority is the support of the young people that have been raised in our Homes. In 2022 we covered the needs of 95 of our children, aiming for them to be able to stand in their adult life", she noted.
Regarding the rehabilitation of children into families, Stephania Tekou, Clinical Social Worker and Coordinator in the Therapeutic Day Center "The House of the Child", noted: "The best possible plan for every child individually is nothing more than a family. Not any family, however, but the right family, for each child. Because nowadays, unfortunately, the number of children that return from foster families keeps increasing. This is a fact that concerns us greatly, as it affects children directly.

In our Day Center we support children that are deeply traumatized, that fall within the entire spectrum of child psychiatric psychopathology, as well as isolated families, single-parent families, foster families with increased difficulties and need for support, which find consolation and support in the Center's interdisciplinary team and are committed in our cooperation for large time periods, resulting in the improvement of their psycho-emotional state of their members and their relations. The support we provide to the carers or parents and guardians of the children is also of vital importance", she added regarding the field of her action.
Stefanos Alevizos, Psychologist and Coordinator of the National Centre for Missing and Exploited Children of ''The Smile of the Child'', spoke about the 4 Hot/helplines (1056, 116000, 116111, 1017), by pointing out among others: "According to the data from the European Hotline for Missing Children116000 one child goes missing every second day on average. However, under the specific circumstance of disappearance, children are not only missing, they are in danger. They are in danger of falling victims of abuse, or being involved in an accident. For this reason, all of us at ''The Smile of the Child'' are trying not only to prevent children from going missing, but also to protect them from dangers when they do go missing. Direct and immediate action, responsibility, cooperation,, experience and knowledge are our allies in this effort. Any child that goes missing, any citizen who goes missing, is automatically in danger. It is important to continue all of our actions to ensure that no one is in danger".
Eleni Papakosta, Social Worker, talked about the value of the actions of the Panhellenic Center of Health and Social Care Services, stating: "Access to the health sector is every child's right. With the valuable contribution of our sponsors, our volunteer doctors, the specialized medical-nursing personnel and the mental health professionals, through our Mobile Units of Intense Care for newborn babies and children, our Mobile Units of Preventive Medicine and Dentistry, our Social Polyclinics, our team of Paediatric Home Care, the hospitalization of families with children that have serious health problems, recreational activities for children that are hospitalized in pediatric clinics in our country, our action for blood donation through ''Odysseus'', we managed to support, across the country, 13.686 children."
The "Smile", continued to provide holistic support to children and families with welfare issues with the same zeal and consistency in 2022. More specifically, according to Sophia Kouchi, Social Worker and Coordinator of the 16 Support Centers across the country: "The energy crisis affected these families deeply, by burdening their already limited budget and intensifying their agony for survival. In 2022 we provided holistic support by covering the needs for material, counselling, educational and social support, with the aim of mobilizing the family members, through their best possible framing".
Roula Sideri, Pedagogue and Coordinator in the Homes of Care and the Day Care Homes, pointed out: "Children remain in a healthy and structured environment, suitable to offer motives and chances for development and growth until their family environment recovers. In the Day Care Homes of ''The Smile'' we cover their basic living needs, we support them and reinforce them educationally, socially in their interpersonal and social relationships, as well as in the context of their recreation and entertainment, by supporting, in the meantime, the families of the children, so that they become stronger and capable again to face the challenges of parenting. The Day Care Homes are undoubtedly the best choice in order to avoid the institutionalization of children."
Dora Thanopoulou, Coordinator of the Academy of Εducation and Training "Smile Academy", referred to the emphasis that "The Smile of the Child" gives to education and training: "We observe positive changes in technology and new exciting tools that unite us through generations. Both youngsters and adults, regardless of where we come from, should be able to participate in the contemporary and real life. Education starts from our own colleagues, volunteers and scientists, who, with the passion for learning that characterizes a child and the responsibility that characterizes an adult, are trained, in the most suitable way, in our areas of expertise: Violence, Missing, Health and Poverty. Participation occurs either internally or with external trainings, with attendance in credible scientific programmes in Greece and abroad. Our duty is to transfer knowledge and experience to other professionals as well, because whatever we do cannot remain isolated, we must all move along in the same wavelength."
Capturing the invaluable action of "The Smile's" volunteers, who over time constitute the "soul" of its work, Vera Tsichli, who coordinates the Department of Volunteering, stated: "In 2022, the volunteers of the Organization, a pillar in all of our actions for each child and family we support, showed their trust, their support and their love for our work. In total, 7.540 people were by our side, some as active, consistent volunteers, others willing to support us every time there is need and their time pandemic conditions allow. Urgent volunteer participation from companies, associations, teams, schools, students-volunteers, all together, united their powers having one common goal: the Smile of every child!"
Georgina Tsagka, Coordinator of the European Student Volunteer Network "YouSmile", visibly moved, talked about children and adolescent volunteers: "Every action of "The Smile" has at its core its own children. Since 2010, and for the last ten years, YouSmile gives, across the country, the opportunity to children to participate in any action aimed at the care and protection of themsleves and their peers. At "YouSmile", there is not a single day that our student volunteers do not help other children. "YouSmile" protects and promotes genuine child participation with the moto "You are never too young to change the world".
Read in detail the Statistics of 2022 in the following link;
https://drive.google.com/drive/folders/1CaHTqmdaulbtIL-9Osnga0kgL0Ty_oTA?usp=share_link
Review the photographic material of the Press Conference in the following link:
https://photos.app.goo.gl/3DJhcrpDwtPRcCM9A
Watch the entire Press Conference in the following link;
https://youtu.be/kVbb40Z46WY?t=444
For more information;
"The Smile of the Child"
Press Office
Phone number 11040
press@hamogelo.gr