"The Smile of the Child" together with student volunteers of YouSmile conducted a survey about the dangers of attracting minors through anonymous chat platforms and social media applications
08 February 2023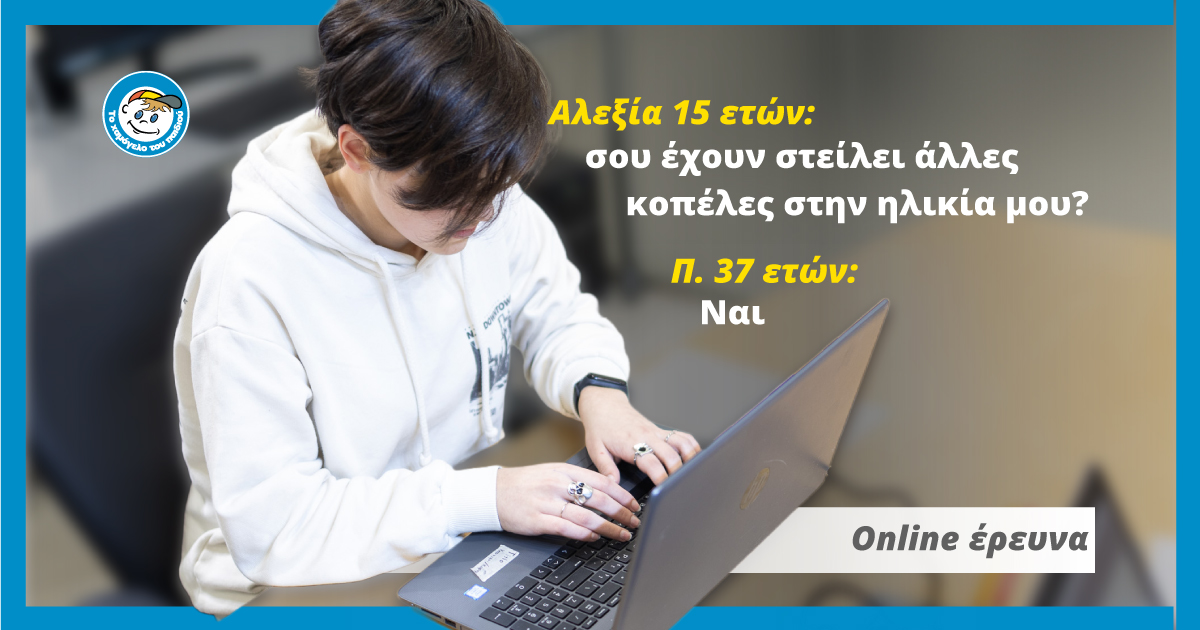 PRESS RELEASE
Athens, 17 February 2023
"The Smile of the Child" together with student volunteers of YouSmile conducted a survey about the dangers of attracting minors through anonymous chat platforms and social media applications
On the occasion of Safer Internet Day, student volunteers of the European Student Voluntary Network 'YouSmile' of "The Smile of the Child", and members of the Child Rights Group of the Organization, conducted an online survey to highlight a very serious challenge of modern times, namely, the danger of attracting minors through anonymous chat platforms and social media applications -applications used in recent cases involving minors- and to present the risks involved daily while children surf on the Internet.
The students, with the consent of their parents and guardians, and under the strict parallel supervision of the specialized scientific staff of the Organization during the survey, administered three (3) hypothetical profiles of supposedly vulnerable underage girls created by "Smile" on anonymous chat platforms and chatted with adult users. They then filmed their experience and presented their findings.
Specifically, regarding the survey:
Three (3) "hypothetical profiles" were created and adopted by students with an average age of 15 yο
A total of 88 conversations were conducted (despite the fact that adults knew that they were communicating with minors), a total of 51 users (58%), the average age was 37 yο
14 users (16%) with an average age of 41 yo, sexualized the conversation, involved grooming or pressured students into sending them photographic materials
Of the 14 conversations: 5 (35%) involved grooming, 2 (14%) were pressured to send photographic material, 2 (14%) received indecent material, and the remaining 5 (35%) experienced sexualization.
In conclusion, in 1 out of 6 conversations conducted with adult users, whose average age was 41 yo, everything came down to sex, or the communication took the form of a conversation that violated the children's rights.
Watch the survey that was conducted at the following link: https://www.youtube.com/watch?v=T5hgcuzCJsU
Stefanos Alevizos, Psychologist and Coordinator of the National Center for Missing and Exploited Children of the Organization, mentioned "We are here before you, for a simulation-survey about all the dangers minors face on social media, along with all scientific professional staff of the Organization "The Smile of the Child", in order to stand by the children and to learn along with them what kind of dangers they may face when using social media. The hypothetical profiles used by the children were chosen by the National Helpline for Children SOS 1056 among all the calls and texts we receive via CHAT1056, by children in danger. We tried to form a common, predominant profile of a minor, the profile adopted by the children in the survey, in order to understand the dangers they face", while addressing parents and guardians he underlined "It is common that the use of social media applications and texting causes panic and fear to parents, who as a result demonize them. We are not here to reinforce this fear, we are not here to reinforce this panic, our goal is to protect children. Technology and Social Media are part of our life. It is ineffective to try in any way to cut off our children from the use of social media. The goal is to prepare children properly for any danger, and if anything happens, they will know how to react and where to turn to seek for help. We want to prevent the risk, so that if anything happens, the children will have the reflexes to respond"
Τhe President of the BoD of the Organization, Mr. Costas Yannopoulos, stated: "In this survey, the "Smile" attempts to interpret, through the children themselves, what is really happening. We are more than proud that the student volunteers and members of the Child Rights Team of the Organization, YouSmile, took this initiative -with the support of our scientific professional staff- in order to find how vulnerable children are in the various social media platforms, and we were horrified by the results. We were truly horrified, because some people presume they can contact and attract a child, an adolescent. We should become alarmed by this and understand that the safety of children is first and foremost in their hands, and once they are informed it is in our hands to support them, and not just be strict with them or forbid them from using social media. Teens should understand that they are in danger, because if they don't understand this, we will then have a problem".
The student volunteers also gave simple guidelines that any child or teenaged can follow, especially those who may not be able to verbalize their feelings or who are scared to talk to an adult or a specialist, so that they can protect themselves from the potential dangers on the Internet:
Think about how you wouldn't talk to a stranger so easily in real life. So avoid doing it online
Remember that whatever you upload on the Internet stays there forever
If you feel uncomfortable while chatting with someone, you can always end it, block them and report the person who is communicating with you
Don't take pictures of yourself that you wouldn't like others to see
Don't forward pictures of other children to third persons
If anything is happening to you and you need help, share it with an adult or your parents, asking then to understand and support you.
As is underlined in the survey "Always remember that you are not alone. The National Helpline for Children SOS 1056 is next to you. If anything strange or dangerous is happening to your children while they use social media, it is an issue that needs to be handled calmly and the scientific professional staff of the National Helpline for Children SOS 1056 is next to you to give you guidance on what you need to do and how to best frame your children".
If you are a child who has been bullied or harassed -sexually or in other ways- online, or you are experiencing conflict in your life over the extensive use of the Internet, if everything is NOT ok, Phycologists and Social Workers of the National Helpline for Children SOS 1056 and CHAT 1056 of the Organization "The Smile of the Child" are here for you. You can ask for help, 24 hours per day, for free and anonymously.
You can review the photographic material of the survey at the following link: https://photos.app.goo.gl/a3D9XWxa78NFwEnX7
More information please contact:
"The Smile of the Child"
Press Office
Tel. 210-3306140
press@hamogelo.gr