"The Smile of the Child" would like to publically express its gratitude to Hellas Gold for covering the Organization's fleet registration fees
19 May 2021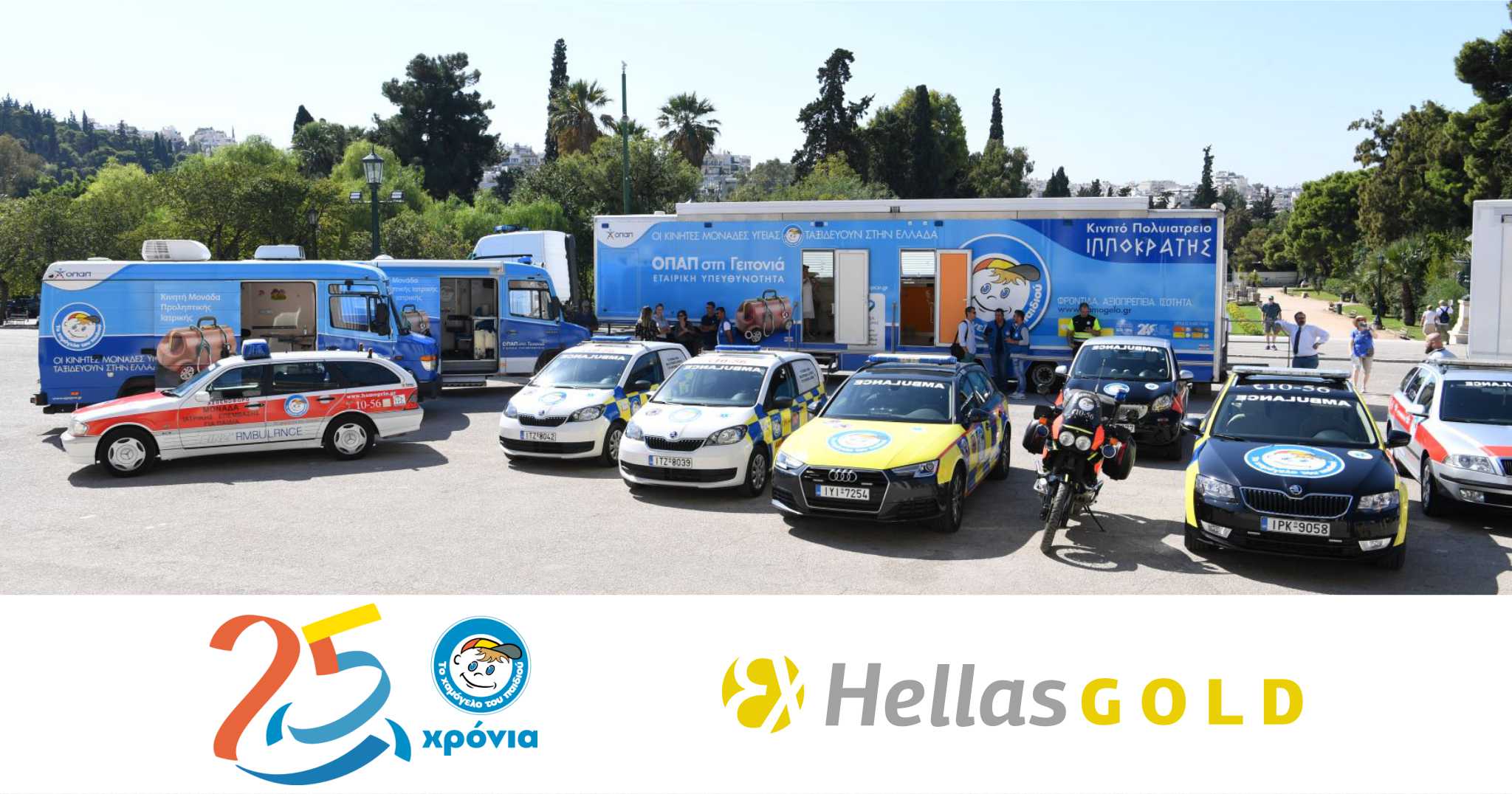 PRESS RELEASE
Athens, 19 May 2021
"The Smile of the Child" would like to publically express its gratitude to Hellas Gold for covering the Organization's fleet registration fees
The company Hellas Gold, in the context of its social responsibility initiatives and with a high sense of solidarity, undertook to cover the registration fees for the 127 emergency and support vehicles of the Organization.

Committed to its anthropocentric character and its values, Hellas Gold is an active supporter of "The Smile of the Child". This time, the company responded to the appeal of the Organization and covered the registration fees of its ambulances and support vehicles. The fleet is used to daily save lives and provide solutions to the needs of thousands of children all over Greece on a 24/7 basis, in close cooperation with the Emergency Aid Center (EKAV) and the competent bodies.

This generous donation is an invaluable contribution of the utmost importance that resolves a major issue, bringing great relief to the Organization. "The Smile of the Child" is certified from the Hellenic Ministry of Labor for the provision of 1st, 2nd and 3rd level of social care services, thus contributing to the social welfare of our country. The Organization further sets the entire spectrum of its services and infrastructure at the disposal of public actors and agencies to serve the public interest and provide essential work to society.

The fleet of the Organization among others includes;
● Mobile intensive care units for neonatal and children treatment (ambulances)
● Medical units of Preventive Medicine and Dentistry providing free of charge examinations in cooperation with the Ministry of Health and the Ministry of Education and Religious Affairs
● "Odysseas", the first mobile laboratory of Information, Education and Technology for children, that has been transformed to carry out voluntary blood donations across the country in cooperation with the Ministry of Health and the General Secretariat of Sports.
● Pediatric medical units that provide care to children with serious and chronic health problems, being treated at home. The project is implemented in collaboration with the Aristotle University of Thessaloniki and the Ippokrateio General Hospital
● Direct intervention and support vehicles for children in immediate danger, acting on prosecutor's orders and in cooperation with the Hellenic Police
● Vehicles that daily transport the 300 children from the 14 Homes of the Organization to their schools

The President of the Organization "The Smile of the Child" Mr. Costas Yannopoulos stated; "We would like to thank warmly the management and the employees of Hellas Gold who immediately responded to our distress and covered our fleet's registration fees. Our vehicles provide essential work and support to society. This is a particularly important contribution that meets a standing need of our Organization, as every tax euro deprives children of meaningful actions. Everyone at "The Smile of the Child" struggles to support children and families in need or in danger. Especially in the existing unprecedented conditions, it is critical to have companies by our side to support us, such as Hellas Gold whose values of social solidarity and offer are an integral part of their corporate identity."