DISAPPEARANCE OF AYA MOHAMMED OLEIWI 13 YEARS OLD # Missing Alert
26 June 2019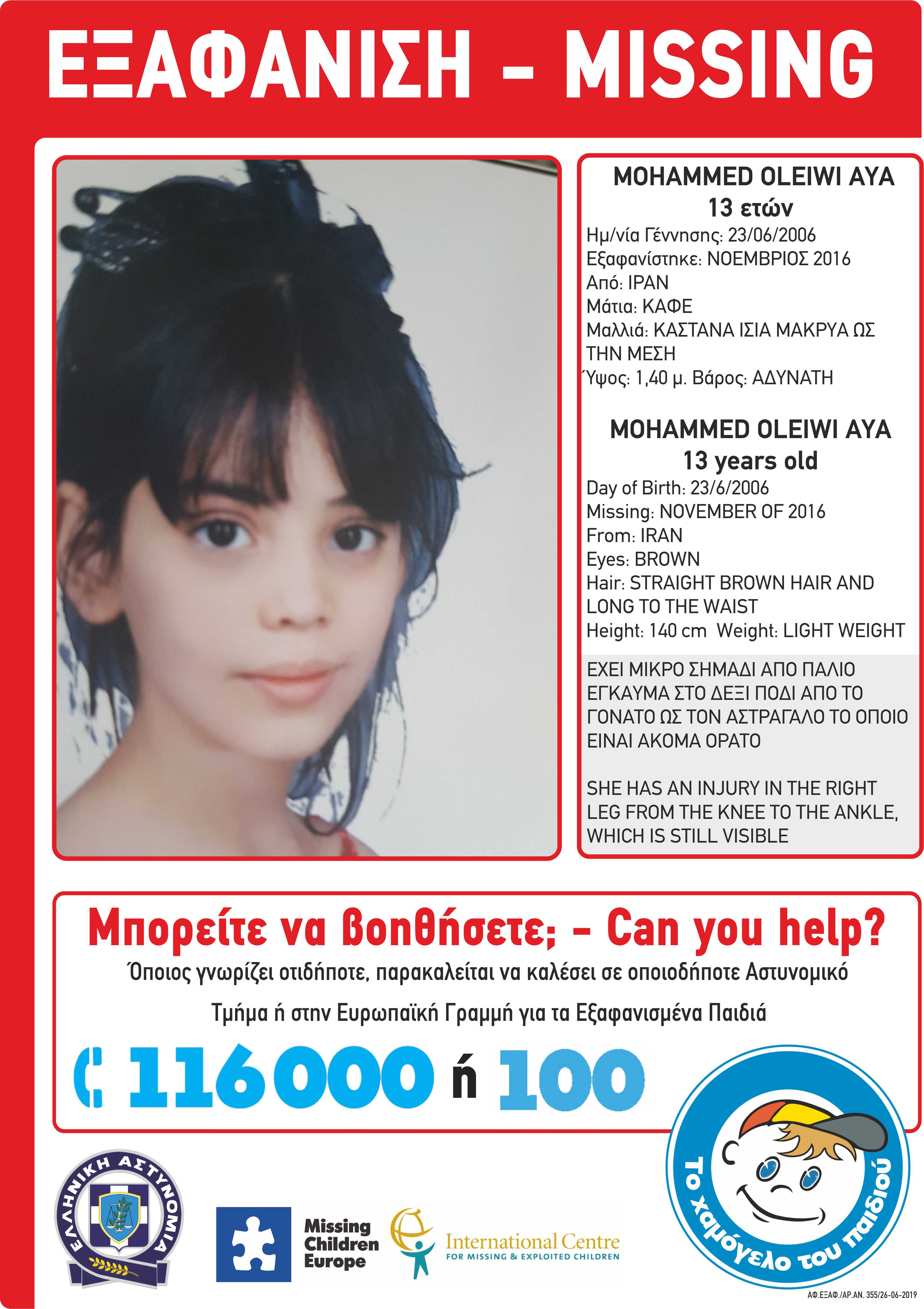 DISAPPEARANCE OF AYA MOHAMMED OLEIWI 13 YEARS OLD # Missing Alert
According to information provided by the Office National De L' Enfance, our 116000 European Hotline for Missing Children partner from Luxembourg and the Luxembourgish Ministry of Education and for the Youth AYA MOHAMMED OLEIWI, 13 years old from Iraq went missing in November 2016 at the Isfahan International Airport. On the day she disappeared AYA was 1.40cm and she has brown hair straight and long to waist, brown eyes. AYA has a small scar on her right leg, caused by a burn on her leg (from knee to ankle), still visible.
'The Smile of the Child' proceeds to this publicity appeal as the minor could be anywhere in Europe.
Anyone who has any information should contact the Organization "The Smile of the Child", 24 hours a day, at the European Hotline for Missing Children 116 000 or the telephone number +30 210 76 09 550 if calling from abroad, as well as any Police Station across the country.
Please publish this Press Release.
In the possible event of locating the child, we will inform you with a new Press Release requesting the removal of the missing child's poster and related information.
"The Smile of the Child" creates, prints and disseminates missing children's posters across the country with the goal to take action and stand by these children who are missing and at risk, and it does so always in cooperation with the Greek authorities. We also cooperate with media and other actors that could be of help to trace the missing children.
"The Smile of the Child", in the framework of its international partnerships, has the know-how to handle with professionalism and expertise the cases of missing children. Learn more on the international partnerships of the Organization here.
For more information, please contact:
National Center for Missing and Exploited Children
European Hotline for Missing Children 116 000
Email: 116000@hamogelo.gr