Submit your presence to the voluntary blood donation program" Weekends of Life"
07 April 2021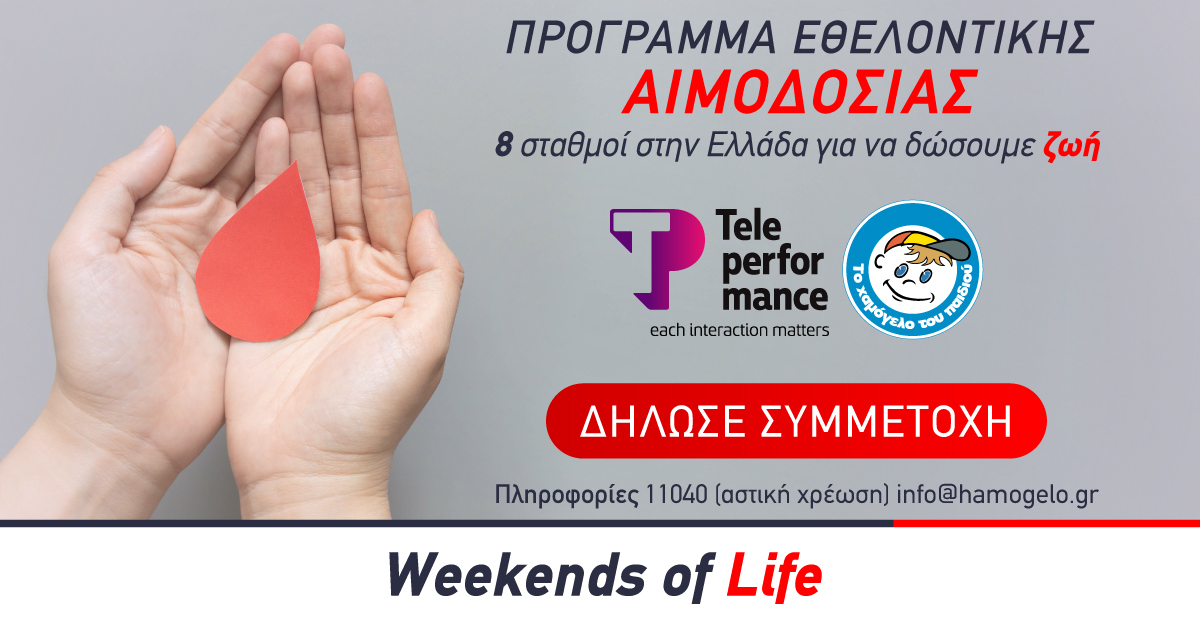 Starting on 17 & 18 April 2021, the "Weekends of Life" will be open to public in municipalities of the regional units of the southern sector of Athens & Piraeus, as well as in Thessaloniki and Crete.
Those interested, who wish to assist as volunteer blood donors, may be informed about the points, dates and fill in the online form here or call 11040 (civil charge from landline and mobile) to schedule their appointment, to avoid overcrowding in the process.
1st Action - Pireaus (April 17 & 18 2021)
2nd Action - Heraklion, Crete (May 8 & 9 2021)
3rd Action - Chania, Crete (May 12 & 13 2021)
4th Action - Rethymno, Crete (May 14 & 15 2021)
5th Action - Athens / Mikrolimano | Hellenic Offshore Racing Club (HORC) (May 22 & 23 2021)
6th Action - Athens / Paleo Faliro | Sports Center of Paleo Faliro (May 29 & 30 2021)
7th Action - Athens / Moschato-Tavros Municipality (June 5 & 6 2021)
8th Action - Salonica / Concentration camp Pavlou Mela (June 12 & 13 2021)
9th Action - Athens (June 26 & 27 2021)

All health and safety protocols that take COVID-19 into consideration are strictly followed. Below we outline some of the key measures;
Appointments in order to avoid overcrowding, which are agreed via telephone or by filling in an electronic form
Temperature assessment and hand sanitizing station at the entrance
Provision of personal protective equipment (masks, gloves, antiseptic) for the staff and volunteer blood donors who will participate
Disinfection of blood donation chairs
Distance between blood drawing chairs, and throughout the space
According to gov.gr it is now official that from Saturday, November 14, movements of individuals to donate blood are permitted, either by confirming exceptional movement and selecting the code B1, or by sending SMS with code 1 to 13033. In addition, certificates will be granted to volunteers at the end of each blood donation.
Volunteers are kindly requested to hold their ID, as well as their Social Security Number.
The concentration of blood units will be carried out in compliance with strict safety and hygiene rules in "Odysseas" ("Ulysses") the first Mobile Information, Education & Technology Laboratory of "The Smile of the Child".