International Conference "Child Sexual Abuse: Next Steps in the Holistic Support of Children"
21 January 2019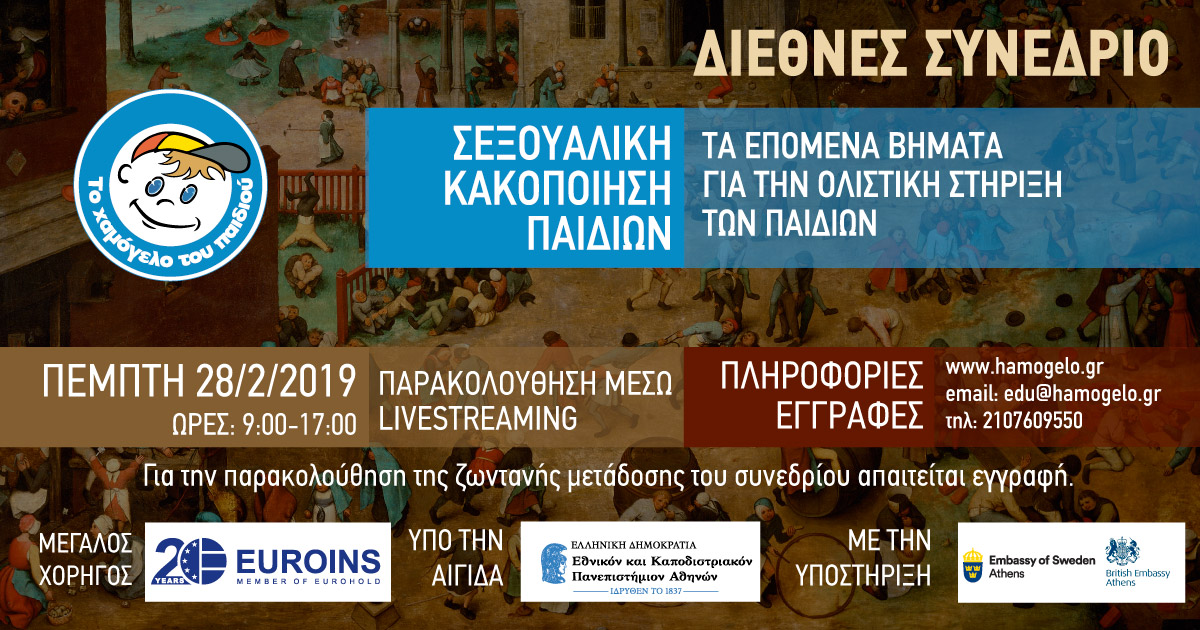 "Child Sexual Abuse: Next Steps in the Holistic Support of Children"
Thursday, 28 February 2019
Grand Hall – National and Kapodistrian University of Athens (Propylaea) Athens
Under the Aegis of the National and Kapodistrian University of Athens
With the kind support of the Embassies of Sweden and the United Kingdom
"The Smile of the Child", country partner of the International Society for the Prevention of Child Abuse & Neglect (ISPCAN), kindly invites you to the International Conference titled "Child Sexual Abuse: Next Steps in the Holistic Support of Children", which will be held in Athens on Thursday, 28 February 2019, under the aegis of the National and Kapodistrian University of Athens and with the kind support of the Embassies of Sweden & the United Kingdom ..
Renowned scientists and professionals from Greece and abroad will participate.
Main speakers include:
Prof. Kevin Browne, PhD, MEd, MSc, C.Psychol (foren), FSB,Professor of Forensic Psychology & Child Health, Director of Centre for Forensic and Family Psychology, Division of Psychiatry and Applied Psychology, School of Medicine and Institute of Mental Health, University of Nottingham, UK
Prof. David Finkelhor, Director, Crimes against Children Research Center, Professor of Sociology, University of New Hampshire, USA
Chris Newlin, MS LPC, Executive Director of the National Children's Advocacy Center, Huntsville, Alabama, USA
Prof. Carl Göran Svedin, Professor/research leader at Barnafrid- the Swedish National Competence Center for Child Abuse and Neglect, Linköping University, Sweden
Prof. Dr. Vasiliki Artinopoulou, Head of the Sociology Department, Panteion University of Social and Political Sciences, Athens, Greece
Prof. Ioanna Giannopoulou, Assistant Professor of Child Psychiatry, B' Psychiatric Clinic, National and Kapodistrian University of Athens, "Attikon" University Hospital
Prof. Olga Themeli, Assistant Professor of Criminal Psychology, University of Crete, Greece
Dr. Christina Kanaka- Geintenbein, MD, PhD, Assistant Professor of Pediatrics, Pediatric Endocrinology and Diabetes Head of Pediatric Clinic, Aghia Sofia" Children's Hospital, Athens, Greece
Dr. George Nikolaidis, Psychiatrist, MD, PhD, Scientific Responsible of 'House of the Child' Day Center/"The Smile of the Child", Director of Department of Mental Health and Social Welfare/ "Institute of Child Health, Chairperson of Lanzarote Committee/ Council of Europe
The Conference's thematic approaches comprise:
Social Policies for Addressing and Preventing Sexual Abuse
Therapy of the Child Victim
Protection of the Child Victim
Issues of Forensic Interviewing of Children Victims of Violence
The Conference is free and certifications of attendance will be provided.
The Conference Program may change. Simultaneous interpretation from/to English will be provided.
Please view the program of the Conference here.
To register to the conference please click here
For more information you can communicate with:
Department of Education and Training of "The Smile of the Child", Mr. Stefanos Alevizos, +30 2107609550 – E-mail: edu@hamogelo.gr and Press Department of "The Smile of the Child", +30 2103306140 - E-mail: press@hamogelo.gr