Announcement on Coronavirus measures and services offered by The Smile of the Child
23 March 2020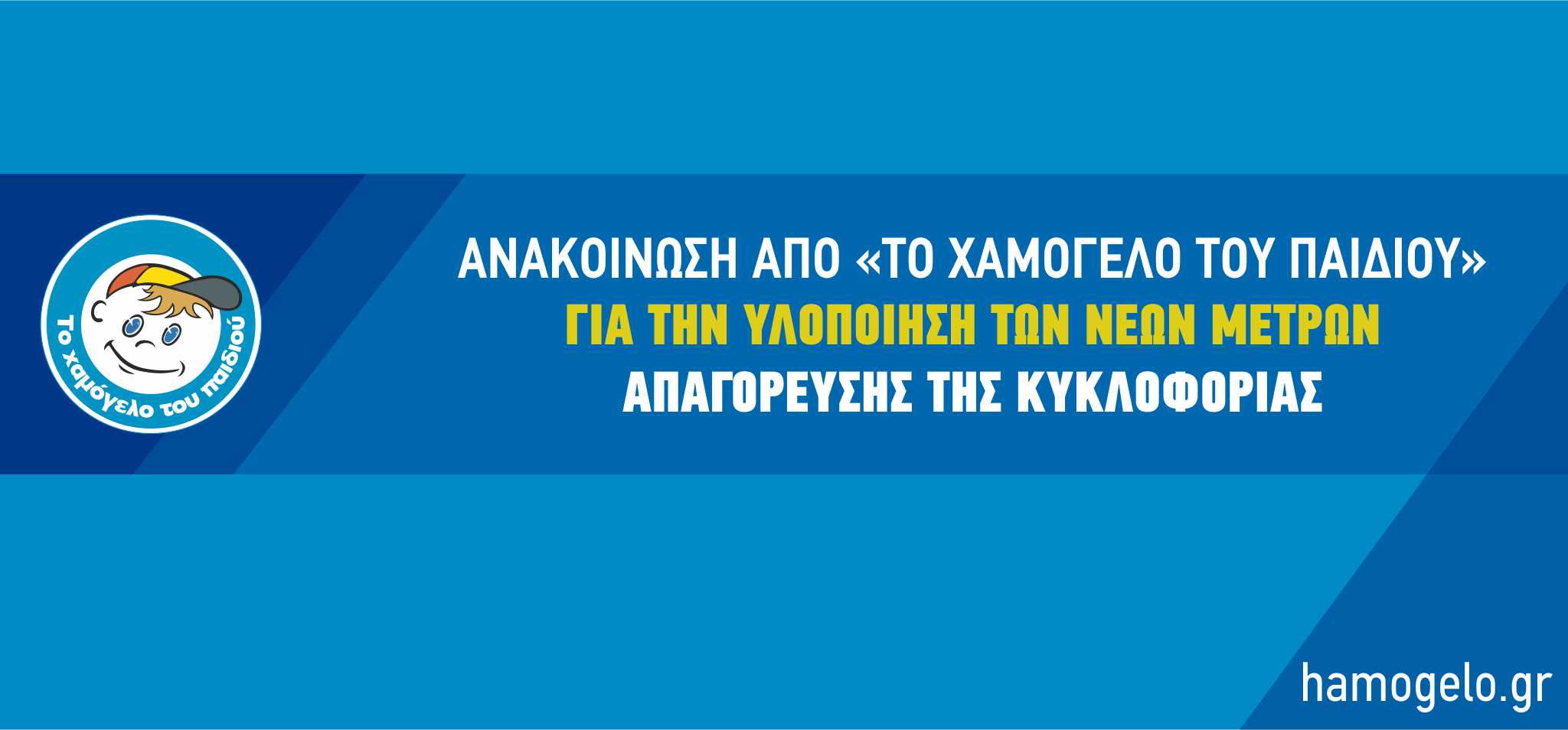 PRESS RELEASE
Athens, 30 March 2020
Announcement on Coronavirus measures and services offered by The Smile of the Child
In the midst of this crisis, "Smile of the Child" continues to operate as usual and in special cases, even reinforces its services. This is the time to unite our forces and show resilience in the fight against the coronavirus pandemic. Only united will we overcome these unprecedented conditions prevailing around the world. Solidarity and Responsibility are core values of our Organization, and will play the most significant role to overcome this enormous difficulty and to return to normality, as quickly as possible.

Alert to safeguard the mental and physical welfare of children growing in our Homes, the "Smile of the Child" adapted and applied immediate actions well in advance, to set up communication channels and operational systems that keep our children informed about and protected from the adverse unprecedented conditions we all experience.

The scientific and technical personnel of our Homes continuously stand by and support our children, caring to foster a secure environment, offering creative activities, as well as ensuring the continuation of their training through innovative e-learning.

Simultaneously, "Smile of the Child" is in continuous communication and close cooperation with the Ministry of Health and the competent authorities in order to utilize the Mobile Preventive Medical Units of the Organization. Protection and safety for all, are non-negotiable priorities for our Organization.

In this spirit, "Smile of the Child' addresses each and every of our fellow citizens in Greece, every child and his family, every individual belonging to a vulnerable group and provides its services to all, as described hereunder;

The 1056 National SOS Helpline for Children - approved as official Emergency Line and interconnected with the 112 European Emergency Number. You may call the 1056 National SOS Helpline 24 hours a day, free of charge for both mobile and landline callers, to receive the following services;
Counseling and Social Support
Anonymous or named reporting of child abuse
Need for blood or platelets
Guidance on any topic and link to authorized services
Telecommunication with doctors about child health problems
Disappearance of children & adolescents (0 to 18 years) & adults (18 to 60 years)
Individual Skype Counseling by Psychologists
Shortly available : Chat Application, through which children will be able to communicate with the Psychologists and Social Workers of the Helpline. The Chat App is made possible with the generous support of the NBG IT Dept.
Support for children with health problems
Operating Mobile Medical Units (Ambulances) of Neonatal & Pediatric Intensive Care, carrying out transfers nationwide.
Meeting the medical needs of children
Providing medical examinations in children
Connecting with doctors
Support for children and their families with living problems
Food Aid and Essentials provided from the 13 Support Centers across the country; Athens, Heraklion, Thessaloniki, Kavala, Corfu, Corinth, Larissa, Lesvos, Patra, Pyrgos, Tripoli, Chalkida, Chania.
Emergency covered by the Organizations emergency fleet
If you are experiencing any serious issue that requires immediate transportation, call us at the 1056 Helpline.
Constant flow of information
Our expert staff – Doctors, Psychologists, Social Workers) post informative articles on our official site www.hamogelo.gr and throughout the Social Media of our Organization.
We welcome questions from parents/guardians, teachers & children through our social media accounts. Our expert staff responds to concerns as they come up.
We upload special webcasts "Ask the Smile" with themes, that help adults and children to manage stress and other issues deriving from the Coronavirus crisis. The webcasts allow doctors, psychologists and social workers to answer questions posed directly from the viewers.
Training
Shortly available The YouLearn Online Learning Platform in order to facilitate distant learning through teacher volunteers. The initiative is generously supported by CISCO.

For further information please contact
"The Smile of the Child"
Communication Department
Tel. +30 210 3306140
Mobile +30 6975 120654
press@hamogelo.gr