Join the game, win at life!
16 September 2019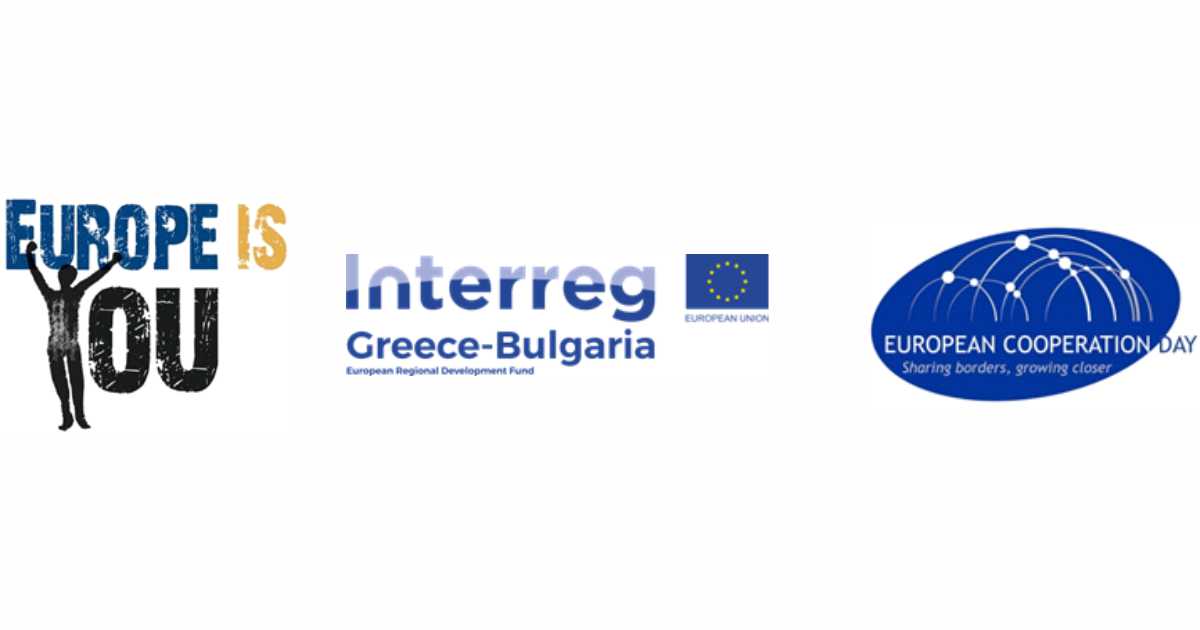 Sunday, the 22nd of September 2019, from 10:00 until 20.00, at YMCA sports facilities (1, N.Germanou, 546 21, Thessaloniki-Greece)

The Managing Authority and the Joint Secretariat of the European Territorial Cooperation Programme Interreg V-A "Greece-Bulgaria 2014-2020", in cooperation with:
● "The Smile of the Child" (Lead Beneficiary of the Project INTERSYC II)
● The 4th Health District of Macedonia-Thrace (Lead Beneficiary of the Project SMILE)
● The Young Men's Christian Association –YMCA (Lead Beneficiary of the Project PROMO-YMC(H)A)

are organising in the framework of the European Cooperation Day 2019 (EC-Day 2019), a festal event entitled "Join the game, win at life!". The event will take place on Sunday, the 22nd of September 2019 at the sports facilities of YMCA in Thessaloniki - Greece (Address: 1, N.Germanou, 546 21 (https://goo.gl/maps/7PUXyYGCdCRjoyGy5), as well as the Nea Paralia (New Waterfront) of Thessaloniki, next to the White Tower (https://goo.gl/maps/2kNKoMxXovCpfS6S6).
A few words about the event
The event is addressed mainly to children (7-15 years old) and includes a variety of sports, medical and learning activities:
● Organization of football and tennis games
● Introduction to the sports of Ping-Pong and Tae Kwon Do
● Guided tours at the Basketball Museum of YMCA
● Demonstration of ambulance services
● Interactive learning sessions concerning health, sports and Europe
● Provision of free of charge preventive medical exams (dental, otorhinolaryngological, pediatric) by volunteer doctors, with parental consent
● Exhibition with interactive panels on European cooperation and its benefits to the citizens

Kids' escorts and the general public (adults) may also participate in the event through voluntary blood donation and free of charge mammography examination.
The participation to the event is free of charge, however registration is needed, by filling in and submitting the following on-line registration form: https://forms.gle/NaBbkhcepU44CsvU8

Registrations will remain open until the 15th of September 2019.
Parental consent is compulsory for the kids' medical examination, by submitting the "Form of consent" (can be found here: https://drive.google.com/open?id=1FYb4eU97JHxB1z3w3SKFrEmNS3-n1JOZ) which will also be available during the event.

What is European Cooperation Day and what do we celebrate?
We commemorate the European Cooperation Day (also known as "EC Day") on 21 September every year. But why do we celebrate cooperation? Europe is a mix of cultures and economies that need to understand each other in order to reach their maximum potential. For this reason, the European Union (EU) encourages cooperation in different ways. One of them is through the cooperation programmes, which allocate more than 10 billion euros for the regions to work together on common challenges: climate adaptation, social inclusion, migration…
How is this done in practice? Through projects involving regions all over Europe and neighboring countries. They have helped increase cultural understanding and overcome economic disparities throughout territories. Don't you think this is a good reason to celebrate?
With the "European Cooperation Day" campaign we would like to remind citizens that many good things come out when we join forces. In the past editions, people cycled together, sang together, ate together, and in general had a wonderful time in each other's company in hundreds of events organised by EU cooperation programmes in over 30 countries.
Everybody can join this celebration. In September, many events are organised in different regions of Europe in order to commemorate the benefits of cooperation: film festivals, concerts, running races, local markets, gastronomic fairs… and more! Find an event in your city or nearby and come celebrate with us.

More information:
For any doubts or additional information, please contact the Joint Secretariat of INTERREG V-A "Greece-Bulgaria 2014-2020" Cooperation Programme, at: Email: jts_grbg@mou.gr, Tel.: +30 2310 469695 and/or visit the Programme's website: www.greece-bulgaria.eu, the Programme's Facebook page: interreggreecebulgaria and the EC-Day website: www.ecday.eu

Attached documents:
• The agenda (program) of the event here
• The form of consent here