Over 100 million missing children posters viewed thanks to NotFound
25 September 2019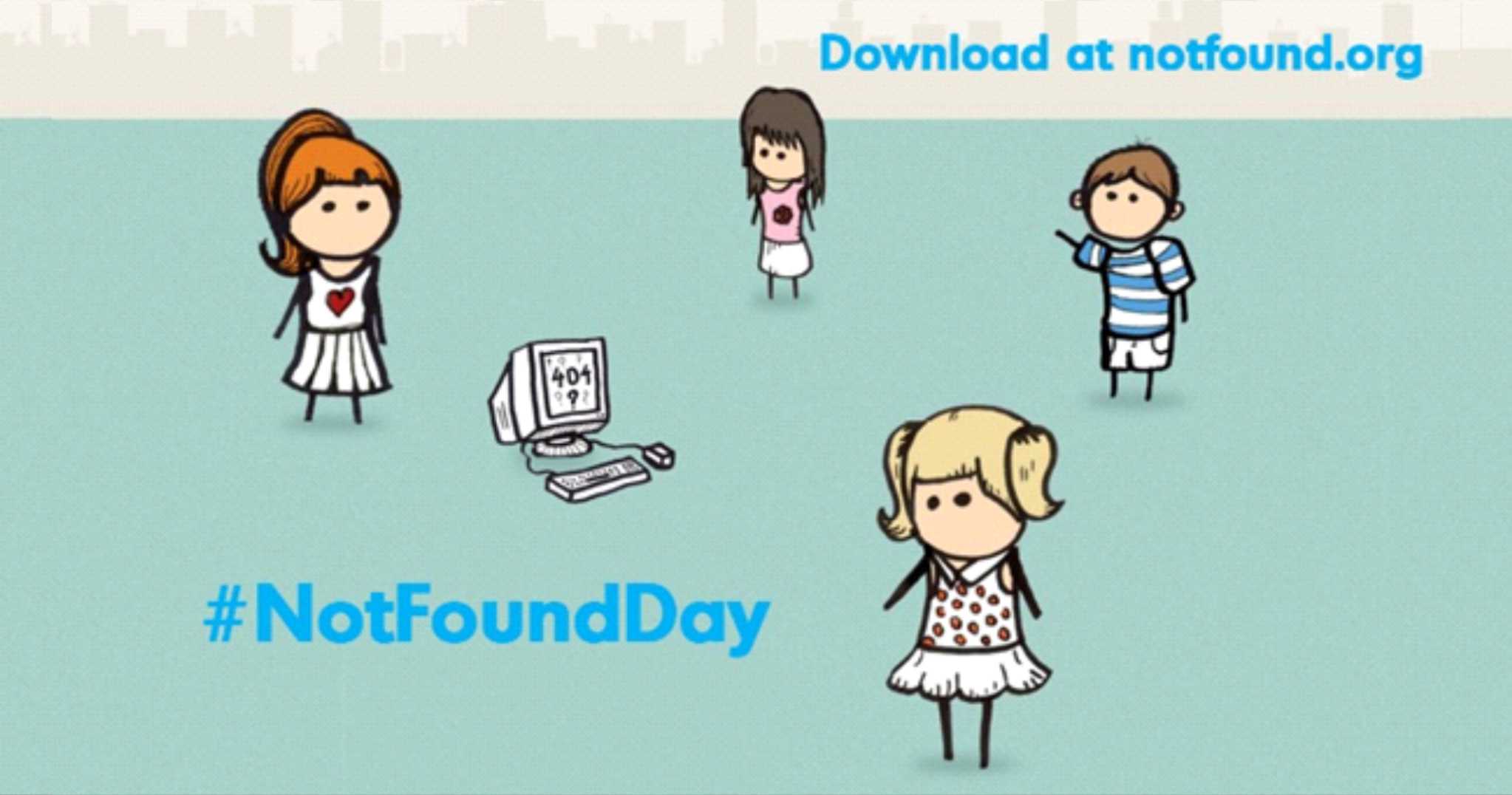 PRESS RELEASE
Athens, 25 September 2019
Over 100 million missing children posters viewed thanks to NotFound
On 25 September, we celebrate the second edition of #NotFoundDay. In the EU, 250,000 children are reported missing every year, a child every 2 minutes. On #NotFoundDay, Missing Children Europe encourages website owners and companies to help find missing children by simply downloading NotFound application to their websites. "The Smile of the Child", as founding member and member of the BoD of Missing Children Europe is partner of Notfound initiative along with other member Organizations from across Europe.
What is NotFound? NotFound is an easy and free way to make a difference in the lives of missing children and to give hope to their families. With NotFound, website owners can display the picture and details of missing children on the '404 Error - Not Found' pages of their websites. NotFound has been already downloaded by over 5,700 websites. This year Missing Children Europe is pleased to announce that more than 100 million posters of missing children have been displayed at a rate of more than 42 000 photos per day. Thanks to huge support of website owners and companies more and more children have a possibility to be found.
"My sister Maria Aldridge disappeared at the age of 17 in 1968 from the hospital where she was training in Birmingham UK. The notfound.org app gives missing persons a voice and awareness which can help bring them home. A huge debt of gratitude to missing children organisations who work tirelessly to support families affected. I believe together we can make a difference. "

- Cathy Phillip, sister of a missing girl.
The NotFound web app functions worldwide by incorporating geo-localized technology, thus users only see the details of missing children in their area. Re-utilizing the 404-error pages, website owners and companies can reach out to internet users around the world, who may have advantageous information that could help find missing children. Downloading NotFound on your website also increases its Google search ranking as well as improves user experience. While most people who reach a '404 Error - Not Found' page would otherwise leave the website, NotFound creates meaning on even the most useless page of your website.
"From the over 1.5 billion websites that exist, an average of 7% of visits reach a 404 page. Thanks to NotFound, these unused pages can be leveraged to an incredible success: over 100 million photos of missing children have been displayed to date. This simple action gives us so many possibilities to help find missing children."

- Aagje Ieven, Secretary General of Missing Children Europe
Since last year, both the website and the application have been visually and technically improved. Currently NotFound serves in Belgium, Italy, Spain, France, Greece and Cyprus displaying over 800 posters of missing children. Thanks to the technical improvements, expanding the application to other countries is now faster and more efficient. Applying the NotFound.org app to websites is an easy and free way of making a difference, simultaneously saving time and manpower of the police conducting investigations of missing children.

How can you help?
1. If you have a website, consider downloading NotFound. It's free and it only takes a few minutes to set up. If you don't have a website but know someone who does, ask them to consider downloading the application.
2. Get the word out! Tweet about #NotFoundDay on 25 September and encouraging more websites to use the application.