«Missing Alert App»: The new innovative application for the recovery of missing adults
14 July 2020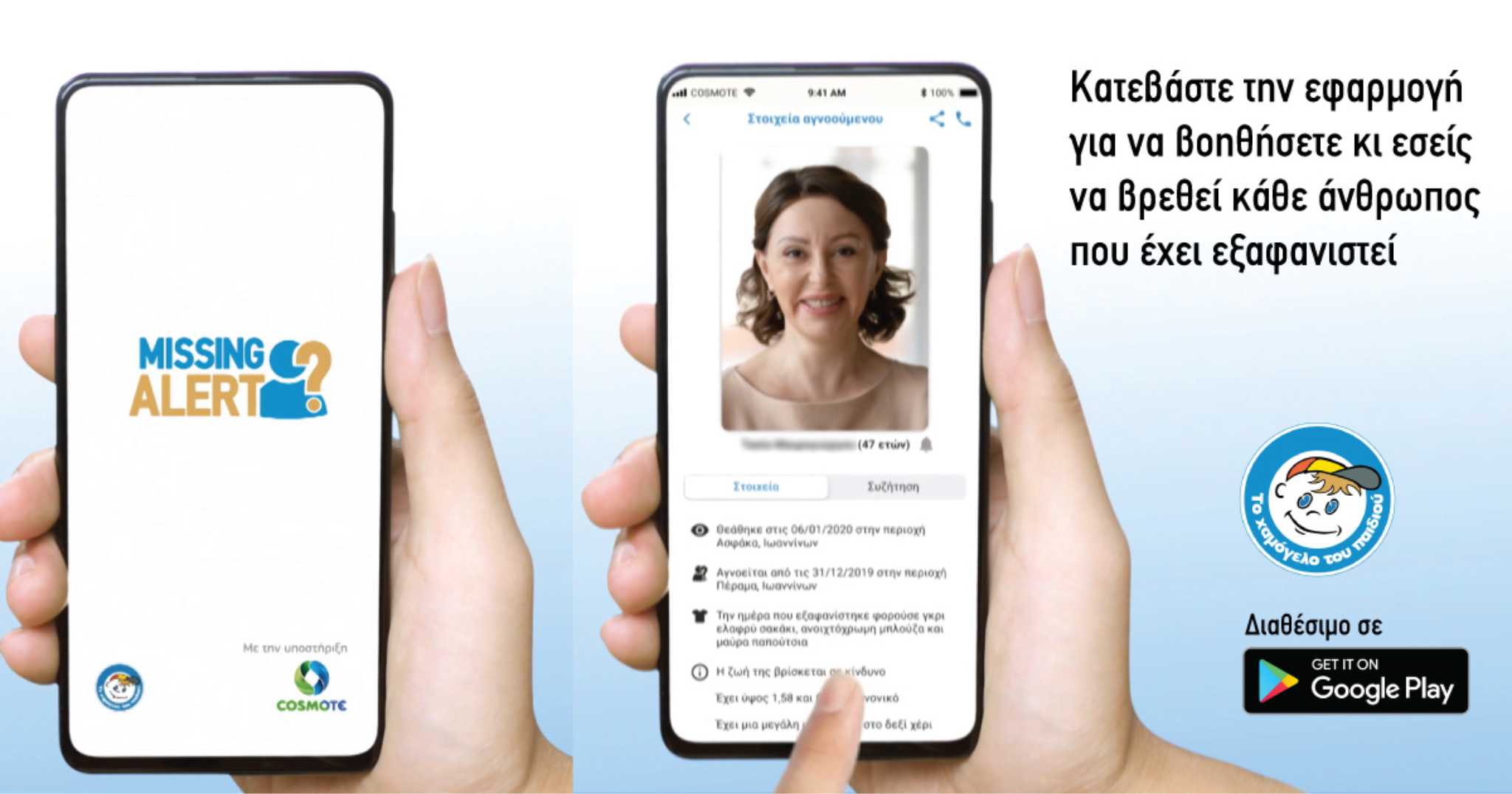 PRESS RELEASE
Athens, 14 July 2020
«Missing Alert App» The new innovative application for the recovery of missing adults

The new free mobile application Missing Alert App is now available to the public, actively supporting the swift location of missing persons in Greece. The advanced application, which is designed and developed by COSMOTE on behalf of the Organization "The Smile of the Child", enables all citizens to contribute to the search of missing persons in real time. Furthermore, it may be used to protect relatives – children, as well as adults – who are at high risk of going missing, thus broadening the social circle of support.
By downloading the app on their mobile phone -initially via Google Play - users may:
Receive information about the current cases of missing children and adults, as well as their progress in real time,
Support the work of the Organization "The Smile of the Child", by providing information about a case via chat or telephone wherever they are and at any time,
Search for missing persons based on different criteria (e.g. date of disappearance, distance from themselves),
Report missing people through their personal social media, thus mobilizing other volunteers,
Protect their loved ones, who belong to vulnerable groups and/or are at high risk of going missing (e.g. due to dementia, mental health conditions etc.), by posting their personal data in the app. Thus, they proactively secure that in any potential incident, the search will start without any delay.
The app is managed by the specialized team of "The Smile of the Child", which is responsible for any information, evaluating it to make the most of the potential for the immediate recovery of the missing person.

COSMOTE provides technological solutions and develops innovative applications to create a better world for all. In this context, COSMOTE has been continuously supporting the significant work of the "The Smile of the Child", offering telecommunication services, infrastructure and tech solutions that assist the Organization in its difficult task of caring for children and addressing missing persons cases in Greece.

"The Smile of the Child" has managed more than 1,600 cases of disappearances of minors in its more than 24 years of operation. In addition, since January 2020, after signing an Agreement of Cooperation with the Ministry of Civil Protection, the Organization has conducted more than 23 investigations to recover adults (18 to 60 years old) belonging to vulnerable or high-risk groups.

The President of the Organization, Mr. Costas Giannopoulos, stated:

"The Smile of the Child" stands next to every child and now to every adult who goes missing and belongs to a vulnerable and/or high risk group, always cooperating with the relevant bodies and respecting the official search procedures of the Hellenic Police and the prosecutors' orders. Through a wide range of actions, services, collaborations and thanks to the use of innovative tools and advanced technical means, we continue to react immediately and effectively to the missing cases, turning Greece to a global model. In this context, and thanks to the new innovative application designed and implemented by COSMOTE, we can all, absolutely free of charge, actively contribute to the process of locating a fellow adult who has gone missing. I urge everyone to download the Missing Alert App and take part in this huge effort."

Mr. George Athanasopoulos, Chief Officer of Operations and Information Systems of the OTE Group, stated;

"The idea for the Missing Alert app started by Hackathon, COSMOTE's internal innovation competition, by a group of young people who themselves had a missing case in their family. The company undertook the design and implementation of the App, utilizing the know-how of "The Smile of the Child". The recent pandemic and its negative effect to the global community and economy have made it clear that technology is a major ally to humanity. Our country has taken an important step towards the new digital reality in the recent months. By investing in advanced infrastructure and technological solutions, at OTE Group we want to ensure that our transition to the future will continue at an even faster pace. The case of the Missing Alert App is an excellent example of how technology can make our world better, by contributing to the welfare of citizens and society."

Video of the app available here

Please contact us for any clarification or further information.
"The Smile of the Child"
Press Office
Tel. +30 210-3306140
press@hamogelo.gr