Training Seminar: "Good Practices for Managing Adolescent Runaway Incidents"
07 October 2021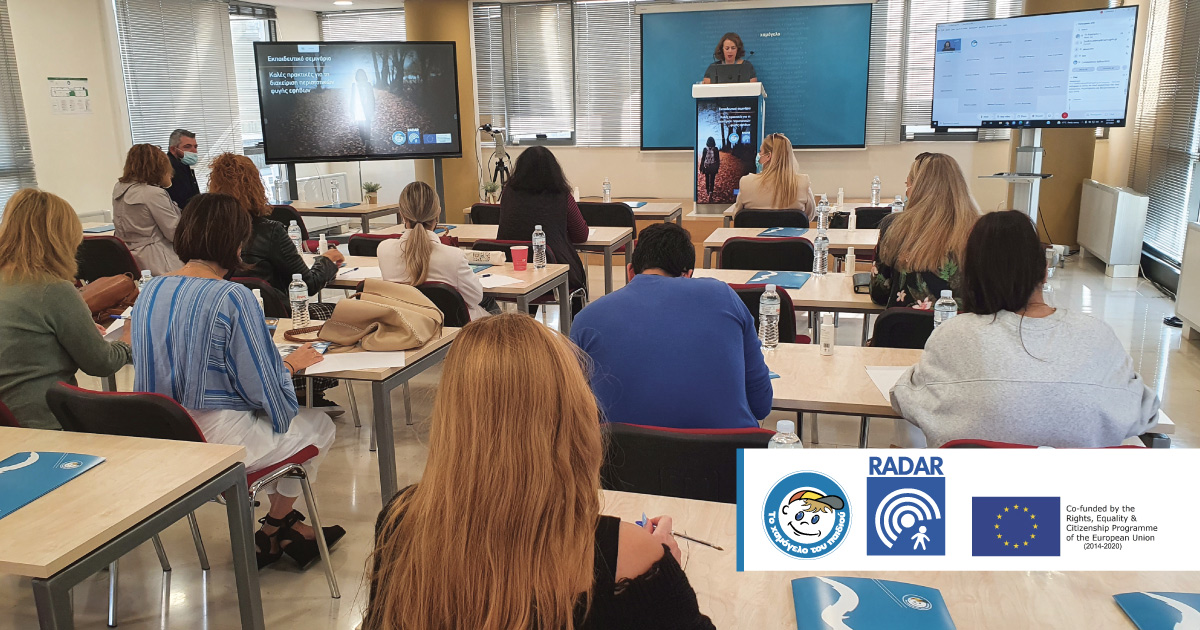 PRESS RELEASE
Athens, 7 Oktober 2021
Training Seminar: "Good Practices for Managing Adolescent Runaway Incidents"
The training seminar "Good Practices for Managing Adolescent Runaway Incidents" was successfully held on Thursday 7 October 2021 at the Panhellenic Medical Emergency & Social Interaction Coordination Center "Andreas Yannopoulos", organized in the framework of the RADAR project co-financed by the program for Rights, Equality and Citizenship of EE. (REC program).

The seminar was attended, live and remotely, by a total of 45 professional psychologists and social workers from social services of municipalities and regional directorates, Addiction Prevention Centers and Mental Health Units, Centers for Interdisciplinary evaluation of counseling and support (KEDASY), etc.

The participants had the opportunity to be informed about the objectives and actions of the RADAR project, the dissemination of the project results, as well as an open source online course (MOOC) that will be attended by those who participated in the training seminar.

Mr. Constantinos Kalfountzos, head of the Search and Rescue Team "Thanassis Makris" of the Organization, analyzed the tools used by "The Smile of the Child" for the safe recovery of children and adolescents, and more specifically for the evaluation of their profiles, the behavioral models and tools and applications for the design of field investigation operations.

Mr. Stefanos Alevizos, psychologist and coordinator of the National Center for Missing and Exploited Children of the Organization, presented the statistics managed by the Organization, as deriving from calls to the European Hotline for Missing Children 116000, focused on the motives of children and adolescents who decide to run away and stressed the importance of prevention in dealing with the phenomenon.

A few words about the RADAR project
According to Missing Children Europe (MCE), coordinator of the RADAR project, "The RADAR project aims to provide runaway children with better support and better protection throughout the European Union, by creating awareness on the motives of young runaways and reframing runaway behavior as an indicator of underlying adverse childhood experiences.

The actions of the project concern the support of professionals, such as social workers, psychologists, prosecutors and police authorities, to improve their knowledge, skills and readiness to prevent adolescents from running away and protect children who have already left.

Through educational and awareness initiatives, the project highlights that running away is not a behavioral problem, but a result of adverse childhood conditions which relate to traumatic experiences of children under 18, such as physical/psychological/sexual abuse, divorce of parents, death of a close person, etc.

For more information and detailed reports on the Project, please visit the link below https://missingchildreneurope.eu/radar/