Gold Award for "The Smile of the Child" and Ergonomia at the Health & Safety Awards 2020 for the Upgrade of the Organization's Health & Safety System
16 June 2020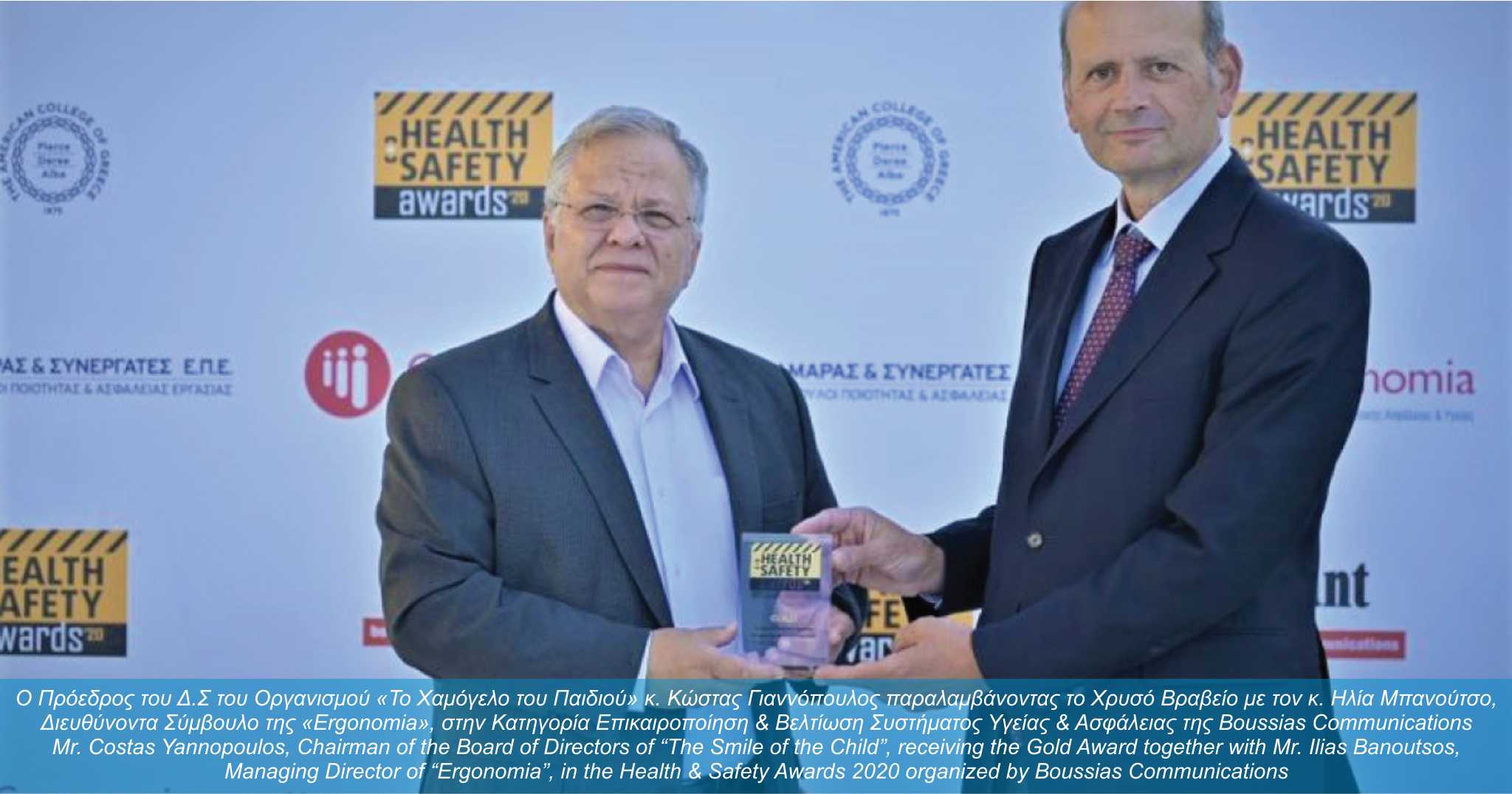 PRESS RELEASE
Athens 16 June 2020
Gold Award for "The Smile of the Child" and Ergonomia at the Health & Safety Awards 2020
for the Upgrade of the Organization's Health & Safety System
"The Smile of the Child" in collaboration with "Ergonomia" earned the Gold Award in the Health & Safety Awards 2020 in the Category «Health & Safety System Update & Performance Improvement».

"The Smile of the Child" places top priority on the health and safety of employees, volunteers and the supported children and their families. As part of our Organization's decision to modernize and upgrade its Security and Health System, we engaged "Ergonomia", a leader in the field of Occupational Safety and Health, to prepare risk assessment studies at the 58 facilities of the Organization nationwide. Among others, the assessment included 11 buildings that house more than 300 children, the 6 Call Centers for the 3 Help Lines (1056, 116000 and 116111), and the 12 Child and Family Support Centers for children facing living issues.

Because of the Organization's diverse activities, careful consideration had to be taken regarding the nature and severity of risks for each different activity. We have also accounted for risks taking into account the complexity of activities and interaction with all parties involved. Our technical staff worked closely with Ergonomia personnel to devise improved solutions.

As a result, "The Smile of the Child" has proceeded with significant risk management improvement in our infrastructure, effectively promoting a safety culture across our personnel.
For more info please contact
«The Smile of the Child» Press Dept.
Tel. 210-3306140
press@hamogelo.gr